There is no doubt that as soon as you get an amazing new tattoo that you're going to want to show off that bad boy! However, the temptation to fling off all your clothes and run free should be avoided for the time being. Avoiding direct sunlight on the tattoo for at least the first the first few weeks is highly recommended while you are going through the tattoo healing process. The sun is probably the worst thing for your fresh new tattoo.
This is particularly hard to do in the summer months when we want nothing more than to wear as little as possible. So what do you do when you have a new tattoo and what to care for it, and protect it from the sun?
Put lotion on your fresh ink.

No matter what kind of tattoo you have, you must moisturize the area to prevent it from drying out, peeling and cracking.
Look into tattoo specific creams and lotions. However, when you are choosing your lotion, make sure to make note on a very important detail. Make sure the lotion is not perfumed in any way, and non-scented. Trust me, you'll thank us for this tip. Perfumed lotions can sting a new and fresh tattoo.

Make sure you know the risks before taking your fresh tattoo outside into direct sunlight.

If you don't take proper care of your tattoo, it wont last you very long. Tattoos can fade in a fairly short period of time from direct sunlight (especially fresh ones), but can also raise the likelihood over other serious risks like skin cancer, diseases, infections, bumps and other damage like scarring. Also, it's worth noting that lighter colours seem to fade a lot quicker, and blues will easily change to a green with their fading.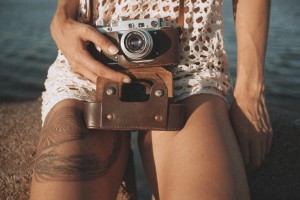 It's gonna fade

Keep in mind that yes, your tattoo will fade anyways with healing and over time. However despite that fact, you should really take into consideration the other factors regarding direct sun on a fresh tattoo (liked those highlighted above). Also keep in mind that "time" fading will be nowhere near as damaging or significant as sun fading. Also fading over time wont change your colours, only mute them, where as direct sun will cause some colours to change.

Avoid tanning beds.

Indoor tanners are just as damaging as the sun, if not more so. The ultraviolet rays are much more concentrated and people tend stay in them a lot longer than they should or that is recommended. When your skin burns, it damages the layers of the epidermis which contain the ink and can cause lumps, scarring, and cause certain areas of the tattoo to become raised and itchy (and remain that way).

Don't use tanning lotions.

Sunscreen is one thing, and is actually HIGHLY recommended for many many reasons, but tanning lotion is not the same thing. Where sunblock protects your skin for the UVA and UVB rays, tanning lotions invite those rays and provide them with the ideal surface to dry out and cook your skin. Not only are these not recommended for fresh tattoos, but they really should be avoided in general during every day life. Cancer is on the rise, and skin cancer is among the top, with the amount of time people spend outdoors, or even intentionally laying out in the sun looking to achieve that dram tan. The best course of action is to avoid it entirely.
Some other things to keep in mind at all times: The more you have direct sun, the more your tattoo will fade. Period, end of discussion.
While the health benefits of staying out of the sun are obviously more important, in regards to your tattoo you would be ruining a very expensive piece of artwork that you have a life long commitment to having and carrying around with you forever. One little sun exposure oversight that a lot of people don't think of is daily life exposure. You aren't always hitting the town in short shorts and tank tops, nor laying on the beach in a bathing suit catching the rays. A lot of sun exposure can come at times when you aren't even thinking about it. Like through the open window in your office, or by doing something most drivers (and passengers) do. Resting your arm in the open car window, exposed to the sun (aka: Driver's Tan).
The best and safest course of action when taking care of your new tattoo and going through the tattoo healing process, is following your artists after care instructions.
All reputable artists will provide you with a pamphlet with information and instructions on how to have a successful and trouble free healing with your new ink.
Tired of dealing with an itchy tattoo? Stay informed on the essentials of dealing with an itchy tattoo.