I was confused at first as well. I was wondering why the heck I wanted to scratch my arm so badly. It was one of my first tattoos with color and for some reason I had a NEED to itch it way more than usual. Im sure I am not the only one who wonders, "why do tattoos itch" and what is the best way to handle it when it does happen?
In this article, I will provide you with answers as to why your tattoo itches and how I stop a tattoo from itching.
Itching is a completely normal occurrence when going through the tattoo healing process.
As the tattoo begins healing, itching is a normal occurrence in most circumstances for people (some people never experience their tattoos itching).
I believe its inevitable for most people and regardless, the tattoo will begin to itch and in turn you will want to scratch at it to ease the irritation. It is important that you DONT scratch at the tattoo especially as it peels as this can very harmful to the tattoo and impact the turn out of your tattoo.
When you begin to scratch at your tattoo,  realize that they are still in the healing process and can therefore lose their color partially or completely if scratched or picked at. It is not uncommon to see bits or small segments of someone's tattoo that appears patchy or is missing the depth of color/design that should be there. This is caused by someone picking/scratching the tattoo in the most delicate stages of the healing process.
I also take into consideration that it is an open wound and as it heals, is susceptible to infection. If you are scratching/rubbing it with your hands you can transmit dirt and germs from your hands to the open area. This comes back to the importance of washing your tattoo on a regular basis
The tattoo itching will go away however in the meantime there is a process I follow when my tattoos itch that I will leave you with to ensure that you maintain the highest quality of color with your tattoo aftercare.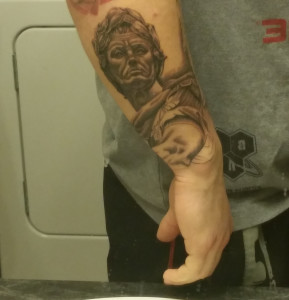 Here is what I do when my tattoo's itch in the healing process:
Whenever the sensation to pick, scratch or rub my tattoo arises due to itchiness I will gently pat/slap the tattoo as this does not affect the imprint however it does provide some relief.
I apply my preferred form of ointment or lotion depending on if my tattoo is peeling. Generally I will switch over to lotion once the peeling stage begins.
I take my mind off of my tattoo, normally it itches when I am lying still or sitting around. To avoid this from happening, I may go for a walk, make some food, or turn on something to listen to.
If you find yourself scratching your tattoo without realizing it
I would be sure to take precautionary measures just so you don't ruin your tattoo. I have woken up to myself scratching a new tattoo (without realizing what was going on).
If you are experiencing an intense need to scratch your tattoo I would be sure to cut your finger nails and keep them short while your in the tattoo recovery stages. I would also be sure to keep a non scented lotion with you at all times to ensure your ability to apply some product that can provide some relief.
Having clean and itch free tattoos really makes the entire tattoo healing process more enjoyable -I always make sure to keep my tattoos clean with the best antibacterial soap.
What about you?