With so many options on the market and different opinions being voiced you might be jumping from product to product trying to figure out what the best aftercare products for your tattoo might be. Below is my in depth analysis based on personal observation, experience, and research.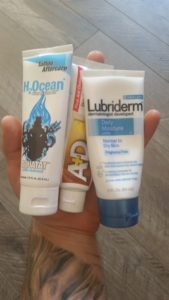 There are three main categories for tattoo aftercare products:
Anti-bacterial Soap: When you are cleaning your tattoo you will need to use a non-scented anti bacterial soap to remove dirt and germs from the area that could potentially infect the area.
Tattoo Ointment: Once you have cleaned the area thoroughly you will use a thin layer of tattoo ointment to the tattoo for the first few days of the healing process.
Tattoo Lotion: After the first few days of using tattoo ointment you will switch to your preferred fragrance free tattoo lotion, this is the final product to use while your tattoo goes through the healing stages.
Before buying tattoo aftercare products ask yourself these questions
Are you more concerned with cost or value?
How big is your tattoo and will you be needing a lot of product?
Do you plan on getting more tattoos in the following weeks, months, or years?
Best Aftercare Products – Cost or Value?
When it comes to the tattoo healing products you apply onto your new ink, everyone will react differently as to what products to invest in at first based on the quality and cost of the product. You may choose to go the cheaper and more generic route and be entirely comfortable using those products or you may find that spending a few extra bucks on branded items leaves your tattoo looking better.
If you do intend on getting quite a few tattoos or tattoos that are large you might consider buying tattoo aftercare product in bulk to save not only on the product, but the shipping, stress, and healing that could be affected if you are not prepared. If you do intend on doing follow up sessions or getting more tattoos buying product in bulk is what I recommend because this prepares you for the worst and will allow a smooth tattoo healing process to begin to take place once you get your new ink!
Whichever route you choose to go, test and experiment with different products until you find what you like. I never take what I hear at face value, I trust but verify what others tell me and pull my own conclusions from that.
Below are my experiences with the products I have tried.
1. Anti bacterial Soap
Anti bacterial soap is the first product that will be used on your new tattoo as you remove the wrap that your artist applied. You will take your first step into cleaning the area that is covered in bodily fluids. The tattoo will most likely be oozing blood and plasma over the next couple of days so this product is especially important to use so you avoid opening yourself up to the possibility of an infection.
I have had a great experience in utilizing two products on the market, both which have great benefits and work well. Those products include:
Dial Gold Soap – Generic Brand
H2Ocean Foam Soap – Brand Name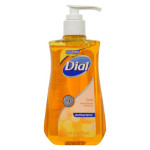 The primary concern with using a soap on your tattoo is ensuring that it is anti bacterial as well as frangrance free. In the world we live in today, that limits our options and unfortunately, you cannot use your mothers lemon scented soap no matter how much you like it.
I have found Dial Gold Soap to be one of the best soaps for cleaning my tattoos in terms of cost, effectiveness, and value. The soap can be found on Amazon (here) at an affordable cost and can be purchased in bulk.  When it comes to a standard product that most shops, artists, and enthusiasts this is a reliable and consistent recommendation to abide by.
The Pro's include:
It's anti-bacterial – You need to have soap that will deeply clean the newly tattooed area.
Fragrance Free/Unscented – Any additives to your soap may cause irritation or burning. Check the labels!
Affordable Cost – You can get a lot of soap that can be used on your tattoo for a great price. This soap isn't tattoo specific so it can also be used as regular hand soap as well.
I really like this product because I can buy it in a large bottle and have it on hand for the long term to take care of my tattoos so I am never short on it.
The Con's include:
Dryness – This one really isn't that big of a deal. But I do notice that after I use Dial Gold soap on my skin the area is a bit more dry. To fix that simply apply you're preferred lotion.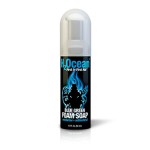 This soap was designed to wash your tattoo without drying it out or excessively damaging the new tattoo. It is enriched with aloe vera which has many positive healing properties. Here are my thoughts..
The Pro's include:
Fragrance free – This is obviously a common trend, you don't want to irritate your tattoos.
Moisturize's well – I noticed my skin and tattoo felt alot cleaner when using this product, I'm not sure if its the added aloe vera or ingredients that provide this effect.
The Con's include:
Size to price ratio – You really don't get a lot of product for the price you are paying. I understand they added more ingredients to assist in the healing and cleaning of the tattoo. But for large pieces I would consider a more cost effective soap like the Dial Gold.
The thing I really like about this and I don't know if it was just me or not, but I felt like my tattoos healed faster and with less issues when I used this paired with the lotion supplied by H2Ocean. I don't want to conclusively state this so I will test it out on some more tattoos in the future and come back to update this.
Overall, when it comes to cleaning your tattoos it needs to be taken seriously and at the very least you want to ensure the product you are choosing is unscented and anti-bacterial. From there I would say it can come down to your own judgement and beliefs.
2. Tattoo Ointment
Once you have cleaned your tattoo thoroughly and dried the area appropriately, you will move into the second product that needs to be applied to the skin which is tattoo ointment. Tattoo ointment is applied to keep the area clean and allow the skin to heal while limiting the possibility of infections that can easily be contracted if the area is not kept clean.
Tattoo ointment is normally used the first 3-5 days after receiving the tattoo and generally you can switch over to using a lotion once the tattoo begins to peel. I have tried numerous tattoo ointments, simply because I am always curious to find something that might work better.
The three ointments I am most familiar with are the following:
Aquaphor – Generic Brand
H2Ocean Aquatat – Brand Name
A&D Ointment – Brand Name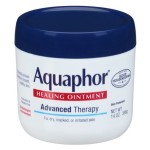 Aquaphor was the first product I ended up using based off of a recommendation from my first tattoo artist that I ended up moving on from. Certain people swear by Aquaphor, however for me I believe the product is far to thick for my skin/tattoos to benefit from it.
The Pro's include:
Cost – It is a very cheap ointment for the amount you get.
Positive reviews – Other people have had a lot of success with Aquaphor and it is commonly recommended (social proof).
Quick Alternative – Many people tend to not use ointment on their tattoos for very long, so Aquaphor tends to do the trick in terms of short term tattoo recovery.
The Con's include:
Too thick of a substance – When I applied the product onto my first chest tattoo I realized that it was a thicker substance than I expected (I may have used more than I should have because I was new to the tattoo healing process) and I ended up breaking out in small pimples/zits on the tattoo.
Note: This is something that happens when you are using too much product on the tattoo and/or the product is too thick of a substance to be used on your tattoo.
This is what caused me to discontinue the use of Aquaphor and begin pursuing other tattoo ointments that would work better with my skin.

I first got to try this product when I received my first order of the H2Ocean Aftercare Kit. I found this ointment very useful in that it seemed to heal my tattoos faster than normal. I am not sure if this is a combination of the total kit being used or if it was this ointment that was pulling it's weight. But there is value in this ointment.
The Pro's include:
Speed of healing – I feel as though my tattoos healed better (quality) and faster.
Simplicity – The kit and ointment were simple to understand and use.
Portable – In today's society we're hardly ever in one location for very long, I can take this product and kit anywhere with me because it's all very mobile. I'm mentioning this hear because I vividly remember taking all of the H2Ocean products to work with me and they fit into my six pack bag where I fit my meals.
The Con's include:
The price – The name brand tattoo healing products are pricier when it comes to fulfilling the tattoo healing process.
The size – This is a pro and a con because often times we want alot of product so that we will never run out, but this is a smaller sized item.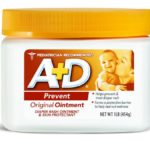 A&D ointment is one of the products that is known across the industry for being extremely effective. It is used by the majority of people who are looking for a generic and effective tattoo healing ointment.
The beautiful thing about A&D ointment when it comes to tattoo aftercare is that it is not nearly a thick as the Aquaphor that many people tend to have issues with. In fact there are many pro's when it comes to using A&D ointment on your tattoo.
The Pro's include:
Price vs. quantity – You can get alot of product for a relatively cheap price. This is something I use on bigger pieces simply because it is cost effective.
The quality – The thickness of the A&D ointment is not nearly as comparable to Aquaphor. When used in moderation you can apply a small portion and rub it into the skin to apply an acceptable amount of ointment.
The Con's include:
Skin rash (with reason) – At times I would use a bit too much of the A&D ointment on a new tattoo and I would end up breaking out in small pimples where there was too much product. This is once again caused when the tattoo is suffocated by using too much product. This can easily be avoided by using a smaller amount of product and spreading a thin layer across the skin.
3. Tattoo Lotion
The final product under review is third in line to be used on your new tattoo. After about 2-7 days people tend to stop using ointment and swap it out for lotion. This allows the tattoo to peel and remain moisturized for the highest quality healing. There are a few tattoo lotions out there that are effective when it comes to the tattoo healing process, however just like tattoo ointment you want to ensure that it is unscented so as to not irritate the skin.
The three lotions that I role with include:
Lubriderm – Generic Brand
TattooGOO Lotion – Brand Name
H2Ocean Lotion Brand Name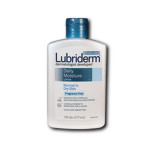 Lubriderm lotion is a staple product that is talked about widely in the tattoo industry. I believe this is because of the generic value that everyone can get out of it. It is unscented, extremely affordable, and effective to moisturize new tattoos.
The Pro's include:
Price – This is a widely recognized and generic product found not only in the tattoo industry but in the skin care industry.
Unscented – You will definitely want unscented lotion to avoid any irritation. Lubriderm unscented lotion is really easy to find in many big name stores/websites.
Value – You get a lot of product for the your buck when choosing Lubriderm which works well for people who will consistently be getting more tattoos.
The Con's include:
Lasting Value – The lotion doesn't seem to last very long on the skin, the effects tend to wear off and so you may find yourself applying lotion over and over again during the course of your day.
The Tattoo Goo original aftercare lotion is a product that makes this review list simply because it's effective and I wish it came in bigger sizes. I used Tattoo Goo products for a long time because I thought there was a lot of value provided in their aftercare kit, especially when it comes to sun care with their glue stick sunscreen for tattoos. Although branded products get a lot of hate in the industry there is a couple of things that I really like about Tattoo Goo lotion.
The Pro's include:
Unscented – As always you want to ensure you are applying unscented lotion onto your skin.
Non-greasy – This is a problem found in a couple of products, they tend to make a mess everywhere after you because you are coming into contact and your lotion/ointment is smudging all over household objects.
Makes colors pop – I want to continue to experiment with this, but I used this product alot on my first elbow rose tattoo and that tattoo to this day ( a year later) still has brighter details as opposed to other aspects of my sleeve.
As soon as I applied the lotion you can tell its taking an effect and it actually lasts for quite some time after you apply it onto your tattoo.
The Con's include:
The amount provided – The bottle size is the only con to this product. If you are wanting to have alot of product to use on your tattoos ensure that you order the appropriate amount or only use this on small pieces.


It's pretty easy to get drawn into the fancy labeling of certain brands and the positive reviews that come with it, when buying products to heal your tattoos. When it comes to marketing this is something companies in physical products take very seriously and I knew this when picking up the H2Ocean Aftercare Kit. The way the product is presented leaves the impression that it should work better than everything else and in my opinion it did seem to work surprisingly well.
The Pro's include:
Speed of healing – I feel as though my tattoos healed better (quality) and faster.
Simplicity – The kit and products were simple to understand and use.
Mindset/emotion – Mentally I felt better using these products.
The Con's include:
The price – Even though I think the quality is there. This was a deterrent.
The size – There is not a lot of product provided in the units. This is something to consider when buying it, if you have a large product then it is probably a good idea to consider the amount of product you'll need before ordering some.
In Closing…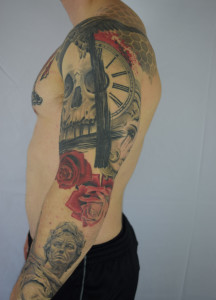 When it comes down to it, there is a lot of product on the market and a lot of personal opinions being thrown into the conversation of tattoo aftercare. This is an article that has been forged through my own personal experiences and observations. With that being said, it does not represent the overarching truth, medical advice, or exactly what you should do. I simply remember being 18 years old and seeking out the "right" way to heal my first tattoo and I wish I had heard from someone the real experience and lessons from what's being sold in the marketplace.
What do you use when you are healing your tattoos? Do you have a go to product or are you open to trying and testing out products that are on the market? What is the biggest thing you look for when it comes to choosing the products you will use on your tattoo?
Note: I am not a doctor and this article is not medical advice it is merely opinion. For the complete disclaimer please view the Medical Disclaimer.