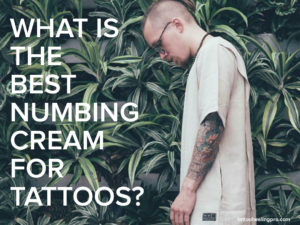 A common fear before getting a new tattoo is the pain that will come along with the new ink. Pain tolerance is something that is different for everyone and along with that different products will affect each person in their own way. Regardless the question arises, what is the best numbing cream for tattoos and how does this play into the tattoo healing process?
.
Every single person's body is unique in their own way.
There are a multitude of options available to those of you that are really in pain and need some form of numbing cream to lessen the effect of getting a new tattoo. Before diving into this subject it is important to consult with your tattoo artist to ensure that it is okay to use the product you are going to buy before getting the tattoo.
The reason for this is that, you do not want to have any issues with the numbing cream negatively affecting the way your tattoo will set into your skin (blown out lines/color not sticking) during the tattoo healing process. I have heard of a few different stories where people applied a certain cream onto their tattoo without telling their artist and the whole tattoo was a mess because of a lack of communication between the artist and the client.
Top tattoo numbing cream recommendations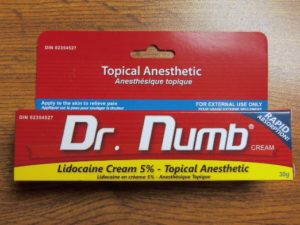 This topical anesthetic has a 4/5 star review on Amazon and the reviews listed are not fake "discounted" reviews. They are real from people who have taken the product during a tattoo and have reviewed their feelings afterwords.
Pro Tip: On Amazon, many companies will discount their products and in return get positive reviews to build their review count for social proof. Check to see if the content of the review contains, "I received this product at a discount in exchange for an honest review". That is how you know they have been in many cases the reviews are not entirely the truth.
The ingredients of Dr. Numb Cream include:
Lidocaine 5%
Prilocaine 5%
Benzocaine 3%
With a cream base
The time this product takes to work is generally 30 minutes to 2 hours depending on the person. The effective lasting time is approximately 2-4 hours which is something to be conscious of because if you are still getting tattooed it will start to hurt quite a bit. When it comes to applying the product you will want to follow the instructions provided diligently.
For your reference they are:
1) Wash the area receiving the cream with soap and water. Dry area completely.
2) Apply a thick amount of numbing cream to the area and rub in thoroughly.
3) Place an additional, thin layer of cream over the area. Cover the cream with plastic wrap (saran wrap). The heat under the plastic wrap helps activate the cream. and keeps the cream form drying off.
4) Leave the plastic wrap on until it is removed by the professional before the procedure.
These instructions come directly from the Amazon product page that can be found here.

HUSH Anesthetic is possibly the most well renowned tattoo numbing cream on the market, it boasts a 3.5/5 star rating with over 700 reviews on Amazon. The majority of the reviews that are bringing down that rating generally consist of the following issues:
The time it takes to work (30 min – 2 hours)
The time it lasts (30 min – 1 hour)
The price ( it is consistent with other products in this market)
It didnt work for them (everyone is different)
The thing with reviews is that everyone has created their expectations, wants, and needs in their head and they review products accordingly. Through analyzing this product it does seem effective, with that being said it might not work for you or meet your expectations.
The ingredients of Hush Anesthetic include the following:
4% Lidocaine, Purified Water, SD Alcohol 40B, Aloe Barbadensis Leaf Extract, Propylene Glycol, Triethanolamine, Glycerin, Menthol, Chamomile (Chamomilla Recutita) Flower Extract, Calendula Officinalis Flower Extract, Green Tea (Camellia Sinensis) Leaf Extract, Comfrey (Symphytum Officinale) Root Extract, Acrylates/c10-30 Alkyl Acrylate Crosspolymer, Disodium EDTA, Caprylyl Glycol, Methylisothiazolinone
The instructions on using this product read as the following:
1) Before skin is broken, apply a thick layer of HUSH Gel in the area to be tattooed. Spread evenly throughout.
2) Reapply along the edges.
3) Wrap the area with plastic wrap and allow 1 hour for absorption.
4) Remove the plastic wrap and prep skin for procedure.
These instructions come directly from the Amazon product page that can be found here.
3. Numb Master Topical Anesthetic Cream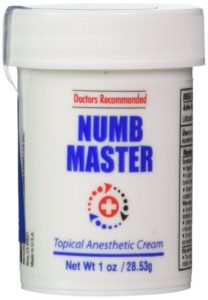 A middle of the road product that is effective and affordable is found in Number Master cream. This product runs a 3.5/5 star rating on Amazon with over 500 reviews on its product listing. The cool thing about this product is it comes in 3 varying sizes to met your needs depending on the size or quantity of tattoos you are getting to save money.
The ratings on this product are the same for most other reviews on other products and it comes down to the product not working for them. With that being said, everyone's experience will be different.
The ingredients for Numb Master include:
Lidocaine 5%, Water, Triethanolamine, Carbomer, Propylene Glycol, Benzyl Alcohol, Ethoxydiglycol, Lecithin, Neopentyl Glycol Dicaprylate/ Dicaprate, Sodium Polyacrylate, Hydrogenated Polydecene, Trideceth-10, Cholesterol, Allantoin
The general time this product works for is about 1-2 hours.
It normally takes about 20-30 minutes to start working
The price on this product is within range of other products in this market.
The instructions on using Numb Master cream read as the following:
1) When practical, cleanse the affected area with mild soap and warm water and rinse thoroughly.
2) Gently dry by patting or blotting with toilet tissue or a soft cloth before application of this product.
3) Apply up to 6 times a day as needed.
These instructions come directly from the Amazon product page that can be found here.
Through my observation and experience there are a few things you need to be aware of when it comes to numbing creams.
Everyone will respond differently to different products.
Certain products applied onto a tattoo can affect how the ink sets in your skin. Check with your artist prior to getting tattooed.
Once the cream wears off, the tattoo process will hurt.
Sometimes upon application of numbing creams the skin will burn. Keep an eye on this, you can read more about other's experiences in the review section of Amazon.
How do you feel about numbing creams, have you ever used any and if so what was your experience?