Are you not sure what to do after you get a tattoo? Thankfully, due to the internet there are plenty of phenomenal resources that provide you with guidance, tips, and tricks that will help guide you to healing your tattoo perfectly.
The healing of your tattoo is the final step to completing your tattoo and therefore it should still be taken seriously. There was a kid I used to work with, and he got a brand new tattoo on his shoulder, he wasn't well versed when it came to healing tattoos properly so he did not take the necessary measures to make sure his tattoo healed with the highest quality.
One day he spent a few hours in the sun and sunburned his arm along with his tattoo. I remember him sheepishly walking up to me with his bright red skin questioning if this was a bad thing to have happen when you get a new tattoo. I explained to him what happens throughout the process of having a tattoo heal and that any damage to the skin can affect the tattoo. I seem to remember it faded quite a bit when it was fully healed and he covers it up most of the time.
This is a small example of why it is important to know what to do after you get a tattoo. Let's jump right in with the 8 essential things I believe will lead to you having a great tattoo!
1. Clean the tattoo thoroughly and properly when you first take the bandaging off of the tattoo.
There will be quite a bit of ink and bodily fluids mixed in when you first remove the bandage, it's vitally important to clean the tattoo with luke warm water after removing the bandage and applying a thin layer of your preferred tattoo ointment.
If this process is not done correctly, you will make a mess of whatever comes into contact with the tattoo because the liquids will spread onto clothing, sheets, etc. You also leave the tattoo susceptible to infection without proper cleaning.
2. Have the proper aftercare products with you.

The aftercare products I make sure to have for the tattoo healing process would include an anti-bacterial soap, a good ointment, and a non-scented lotion.
I've found one of the simplest and most effective ways of ensuring your tattoo heals properly is to not only get the proper products but get the proper products from a reputable supplier. Here are a few recommendations that I've had success with: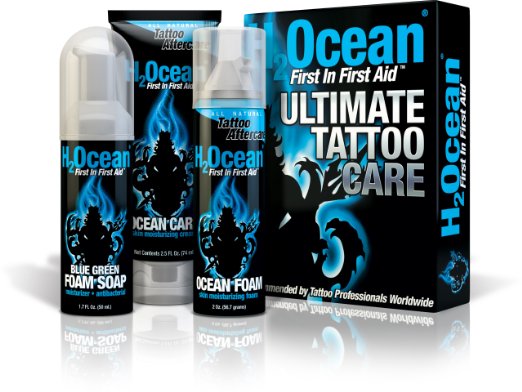 H2Ocean Ultimate Tattoo Care Kit
Three part system.
Water based products.
Noticed faster healing.
Buy Now
Tattoo Goo Aftercare Kit
Great for small pieces.
Does not contain Petroleum or Lanolin
Includes sunscreen protectant for tattoo
Buy Now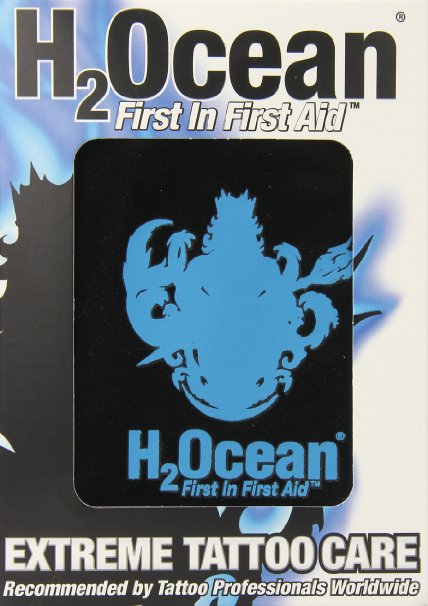 H2Ocean Extreme Tattoo Care Kit
Really Effective Lotion.
Three Part System.
Larger Kit (9 Oz.)
Buy Now
3. Wear loose clothing that won't irritate the tattoo
The best offense is a great defense, right? You can ensure your tattoo heals great by not wearing constricting clothing that may rub or irritate the new tattoo. This is especially important when the tattoo starts to peel. When the tattoo begins to peel do not touch or pick at the skin, allow it to peel on its own to retain the most amount of color.
NOTE: By picking or itching at your tattoo you open yourself to having a patchy tattoo that loses color in certain spots that you may have picked at.
4. Clean and moisturize the tattoo as needed
There is no perfect schedule for cleaning your tattoo and keeping it moisturized especially because everyone's body and lifestyle is different. I generally will clean my tattoo about two times per day. The best time for me to clean the tattoos is immediately upon waking up and showering – the human bed can be pretty gross and contains a lot of germs and bacteria. Cleaning the tattoo upon waking up is probably a pretty sure bet if your really not sure what to do after you get a tattoo.
The next time I go to wash my tattoo depends on what I am doing and what comes up during the day. Some instances that would cause me to wash it again may include:
If it gets irritated as I go about the day (rubbing the tattooed area against something, have fluids contact it, or any other situation where something that isnt normal touches it)
If I workout (Gyms are disgusting; wash immediately once you are out of there)
If I am about to go to bed
Of these three scenarios I'll generally clean the tattoo after one and that will be good for the day.
Obviously after cleaning it and letting the tattoo dry I apply my preferred ointment or lotion depending on the stage of healing that the tattoo is in.
5. Keep the tattoo out of the sun
Going back to my story about the guy I used to work with. When you are out in the sun for long periods of time you are opening yourself to having a faded tattoo. If you do get pretty bad sun burn on the skin you may also develop an open wound on the tattoo depending on if your skin blisters and how your body reacts in the sun. Educate yourself on sun exposure and new tattoo's to ensure that you don't end up with any horror stories!
Just a side note: Being out in the sun for long periods of time regardless of having a tattoo can be harmful over the long term. Take care of your skin, it's a live organ just like your liver or kidney and skin cancer is on the rise due to careless sun exposure.
6. Don't soak the tattoo in water
When it comes to water exposure and your new tattoo, you absolutely don't want to leave the tattoo under water for long periods of time because it will affect the outcome of the tattoo. Taking a bath, swimming in a pool, or floating in a river are all pretty bad ideas when your tattoo is still in the healing process.
It goes without saying, but swimming the ocean or a chlorinated pool with a new tattoo is not a good idea because the salt water and chlorine will not mix and can potentially damage your tattoo.
7. Set up another appointment!
No, your tattoo artist isn't paying me for this (maybe they should). There are a couple of reasons you may consider booking another appointment. If you liked your artist and like the work, set up another appointment to add on to what you have!
There is almost always something in the back of your mind that you want, sit down with your artist and talk it over with them. Figure out what you can get as your next tattoo and get ready to restart the tattoo healing process after that one.
You may also need to set up another appointment for a touch up or add on for the tattoo you have. Not all healing processes go as we want them. Sometimes, color doesn't retain like we want it to or there is more we want to add. Cover this before setting the appointment with your artist and have an idea of what you want as an end result.
Knowing these details is all part of the tattoo healing process and knowing what to do after you get a tattoo is important to maintaining the highest quality work possible.
Good luck and happy healing!