When you are going through the tattoo healing process you may be thinking about getting a touch up once it has healed because you are concerned about an issue with color, look, or design in an area.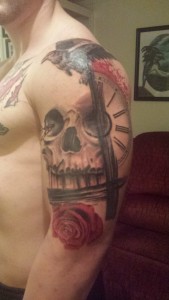 This is normal; we all want to have perfect tattoos that are created just as we envision them in our minds.
Don't think about getting your tattoo touched up while you are healing it. If you're artist is any good they will not tattoo you with a fresh tattoo because the healing has not been completed and tattooing the area would be extremely painful.
Focus on completing the healing process as best as you can even if you mess up in some way and some color is lost or the design is messed up.
Things happen, you unconsciously scratch at your tattoo, you bump into something and irritate the area, or you stay out in the sun too long. It's important to stay the course and complete the healing process.
After about 3 weeks your tattoo should be finished healing, if you take longer to heal you should be just about there. I can tell this when the color has lost the shine that it originally had and there is no pain to the touch.
Most tattoo artists offer a touch up for the tattoos they give (no one wants ruined art walking around on the streets with their name on it). Use this session if you had any issues:
 Loss of color from the sun
 Too much water exposure
 Excessive itching caused poor healing
 Picking at scabs removed color
The tattoo was in a difficult location to heal (joints)
 Your artist left some spaces open that were missing color
Keep in mind that the tattoo healing process is your responsibility and you should not blame anyone for what happens to your tattoo if it happens to be damaged while it is healing.
My tattoo artist is a badass and takes a lot of pride in the tattoo's he gives, so whenever there is an area that I happen to mess up or that is open we just go over it and get it fixed the next time available.
Remember that the tattoo is not going anywhere so there is no rush to getting your touch up, but you want to have it scheduled at some point in time. The longer you go without it the more it will drift off into the back of your mind and you will never get to enjoy the true beauty of the completed tattoo